About Us
---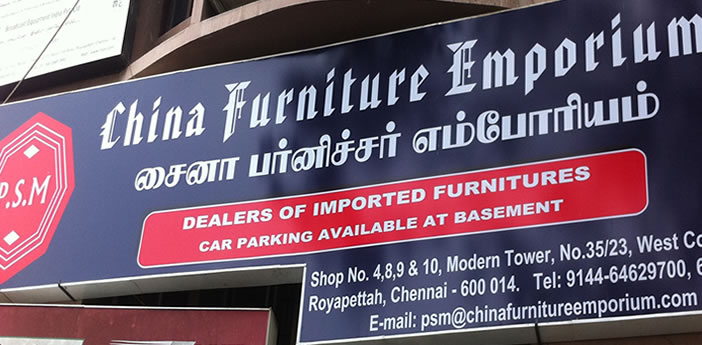 China Furniture Emporium has made a base in Chennai for its retail outlet. Chennai is the capital of South India and our showroom here is approximately 7,000 Square Feet in size. We have one of the largest showroom for high-style modern imported furniture in Chennai.
We are direct importers from over 50 of China's leading manufacturers. Our management has excellent experience in importing from China. We have developed a strong relationship with our suppliers in China and pride ourselves in working with China's leading manufacturers, renowned for their quality control, reliability and design.
We have learned from our clients in our showroom as to which products are of most interest to them and we offer our beloved clients high quality furniture of their taste. In many cases we offer products not available anywhere in India. Our designers work directly with our China manufacturers to create unique products for our clients needs. The designs we offer are created to outlast trends and are tried and true tested for quality and style. By importing directly we offer to our clients the best possible value, selection, and availability.
Our goal is to maintain in stock all the products featured on our website. Our extensive collection of office and home furniture offers a wide range of high design modern style. We offer all kinds of furniture of designs from Italy, Spain, U.K., France, U.S.A, Malaysia, Indonesia and China.
Our experience with our clients and suppliers and our focus on in-stock furniture make China Furniture Emporium your best source for high style modern furniture in Chennai.
---